Richard Edlund, ASC
It's been a diverse and enterprising road for Richard Edlund, whose early stint with the U.S. Navy shooting stills and film wet his filmmaking appetite and left him with a lifelong passion for Japan. A short detour found him working on San Francisco's ubiquitous cable cars, shooting rock and roll stills, and as a man of all trades working in '60s television—until eventually finding his niche as the father of the new age of visual effects.
Fargo to ILM
Edlund was born in Fargo, North Dakota. After a Naval tour, USC Film School brought him to LA where he did a short stint with Joe Westheimer ASC's visual effects company. In the late '60s, he segued into rock-and-roll photography, shooting publicity stills, posters and dozens of album covers for top rock artists including: The 5th Dimension, Warren Zevon, Seals & Crofts, The Turtles, The Monkees, and 3 Dog Night. But the uncharted territory of visual effects drew him back and he took a job with Robert Abel, where he co-introduced the use of motion control technology into television commercials.
Meanwhile in 1975, fellow VFX enthusiast, John Dykstra, was assembling a team for a startup he called Industrial Light and Magic (ILM). Edlund was one of the first to join the group whose mission was to go where no filmmaker had gone before – with visual effects for a movie called Star Wars. When the new technology and Star Wars franchise clicked, Edlund moved to Marin County to supervise visual effects for the next two episodes of Star Wars, as well as Raiders of the Lost Ark and Poltergeist.
Boss Film VFX
Looking for even more of a challenge, Edlund returned to the Los Angeles' bustling production center to take over the equipment amassed by Doug Trumbull's Entertainment Effects Group. He retooled the 65mm visual effects company, renaming it Boss Film Studios. Boss Films became a star in the visual effects world, when company simultaneously produced the comedic visual effects for Ghostbusters created a hybrid technology integrating NASA's digital images of Jupiter into a key sequence in 2010. Boss's pioneering VFX technology went on to create stunning imagery for over 40 features, including Die Hard, Ghost, Poltergeist 2, Alien3, Species, Multiplicity, Air Force One. Masters of the Universe, Cliffhanger, Batman Returns, The Last Action Hero, Waterworld, Heat, Starship Troopers and a slew of other high profile projects, including pioneering Bud Light Superbowl spots. The company achieved ten Academy Award nominations over a fourteen-year period.
Visual Effects Supervisor
Following Boss, Edlund continued to build his credit list as a freelance supervisor, re-uniting with Director Harold Ramis for the comedy Bedazzled as Visual Effects Supervisor and its 2nd Unit Director. He was Visual Effects Supervisor on the Emmy-winning HBO miniseries Angels in America for Mike Nichols, supervised sequences in The Stepford Wives for Director Frank Oz, and joined again with the great Mike Nichols for his final movie, Charlie Wilson's War.
Oscars, Emmys, BAFTA and more
Edlund is a four-time Academy Award visual effects winner – Star Wars: A New Hope, Star Wars: The Empire Strikes Back, Raiders of the Lost Ark, and Star Wars: Return of the Jedi and was nominated for Poltergeist, 2010, Ghostbusters, Poltergeist II: The Other Side, Die Hard and Alien 3. He's won three Academy Technical Awards, the British Academy Award for Poltergeist and Return of the Jedi. He earned an Emmy for creating the visual effects for the original television miniseries Battlestar Galactica and another nomination for Mike Nichols' Angels in America. The Academy of Motion Picture Arts and Sciences honored him with their John A. Bonner Medal of Commendation in recognition of his contributions to the Academy. And the ASC (American Society of Cinematographers) they presented him with their esteemed Presidents Award in 2008. He has also received top accolades from the Visual Effects Society, Academy of Science Fiction, Fantasy & Horror Films, and numerous other organizations.
Giving back to the industry
Edlund is a twenty-two year Governor of the Academy of Motion Picture Arts and Sciences, founding member of the AMPAS visual effects branch and is chair of the Branch Executive Committee, also chairman of the Academy's Science and Technology Council. He also serves as board member of the Visual Effects Society and on the Board of Directors of the American Society of Cinematographers.
Edlund is a frequent lecturer at industry organizations and universities across the world including USC and Chapman film schools.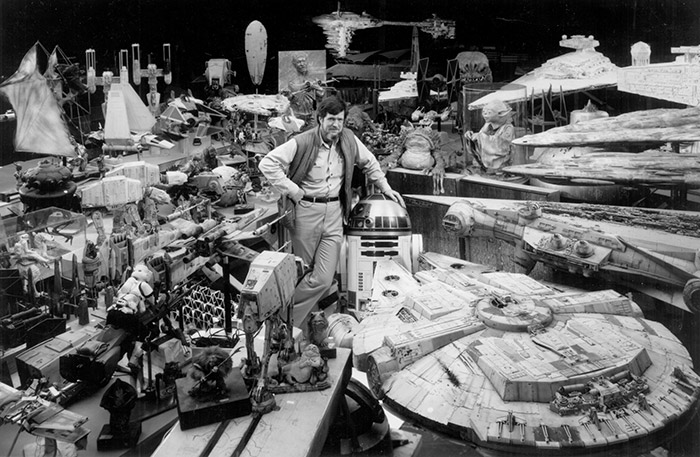 Edlund on Star Wars: Episode VI - Return Of The Jedi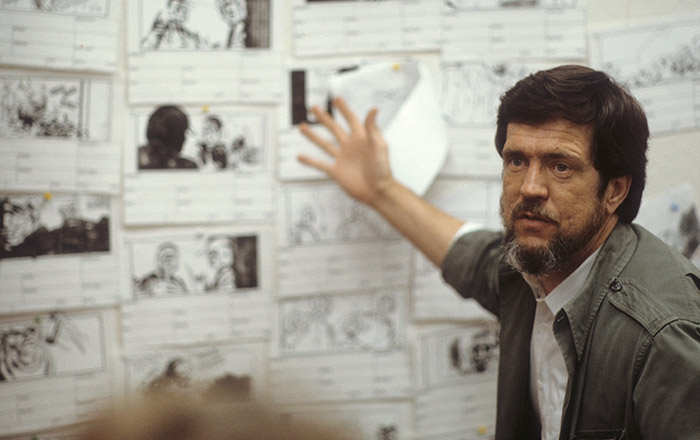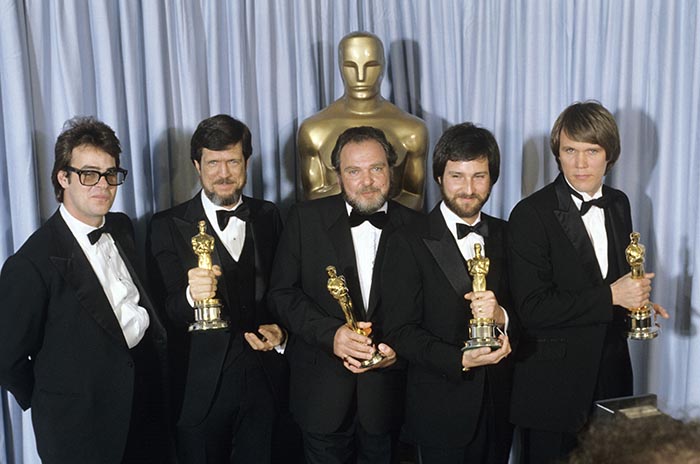 54th Academy Awards - Raiders of the Lost Ark (1981)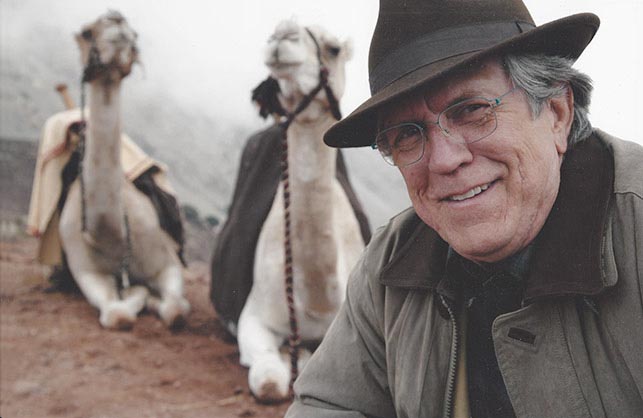 Richard on location on the Atlas mountains in Morocco for Charlie Wilson's War
Fun facts about Richard Edlund
THING in The Addams Family
"At Westheimer Co., when shooting inserts or commercial beauty shots, I was every cinematographer's one-man crew: assistant cameraman, operator, grip, gaffer, etc. I even played "Thing" in The Addams Family — that's my hand in the main title."
Assisting Ernie Haller ASC & Hal Mohr
"I learned a lot while assisting Ernie Haller, ASC (Gone with the Wind, Whatever Happened to Baby Jane?), and Hal Mohr, ASC (Phantom of the Opera, Baby Face Nelson)."
Hand created the Star Trek font

"I hand-lettered main titles for several TV shows, including The Patty Duke Show, and the design of the distinctive angular Star Trek font which is still in use today."
On Poltergeist with Steven Spielberg
"On Poltergeist, Steven kept saying "I want more light!" and I finally said: "But we can only get 15 foot-candles on the screen," so why don't we use light pastel colors matted over the white background for the 'disturbances in the field?' He excitedly exclaimed "Exactly!" We had to design the visual effects shots as we went along, since we had hardly any pre-production time because the picture had been jammed into production to beat the date of a potential Directors' strike."
Mike Nichols on Angels in America
"When we were wrapping Angels in America, the late, great Mike Nichols commented to me: "Richard, this has been my favorite visual effects experience!" One of mine, too."